December 07, 2010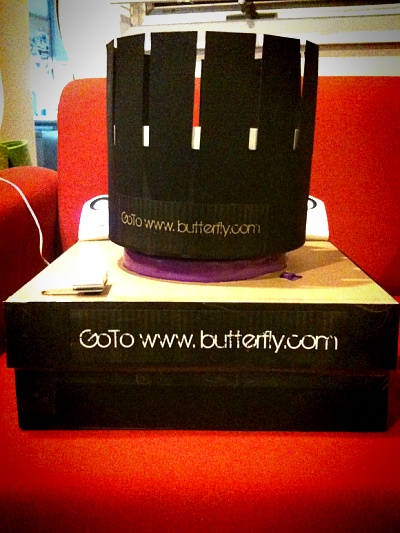 zoetrope trailer player from Sena Hong on Vimeo.
For my final project, I wanted to make a trailer for my thesis project, a short animation about N. Korean suffering from lack of human right. A butterfly in this animation is the representation/metaphor of the someone in N.Korea not being about to tell their story by showing how they are not able to speak about their lives because they don't have the freedom to do so.  The story of this animation will be told on a website that the zoetrope tells you to go to so you can watch the animation.

A physical object, Zoetrope, plays the trailer for user to watch.  It consists of a drum with an open top and will be used for the trailer of this animation and to get attention from the user more effectively. Vertical slits run along the circumference of this device. One or more users look through these slits as the drum rotates to view what appears to be smooth motion generated by the static, sequential drawings of "A Butterfly Trapped in a Jar" placed on the lower inside portion of the drum.
For the sound effect, I used a digital audio workstation, protool and cubase, in order to record my voice and mix it with background music. The sound was recorded into a small recording module first.  I put the module under the zoetrope so people can hear sound while watch the images.  However, after testing to some users, I found that the sound from this module was not loud enough people to hear.
1st iteration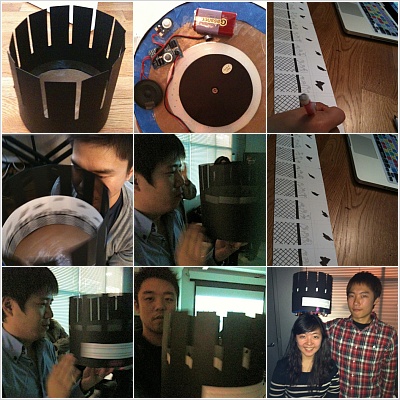 I tested first one with some users and got some feedback.  They were saying images of hands, which represents the hands that seek freedom, was not recognizable and the sound was so weak.  Also it was little bit hard to spin the device.
So I used a little toy that is used for making a pot.  It contains motors, which spins the device with switch.  Devices was attached to this little spinning machine and then it was put into the box with speakers. Images were edited too for more clear view.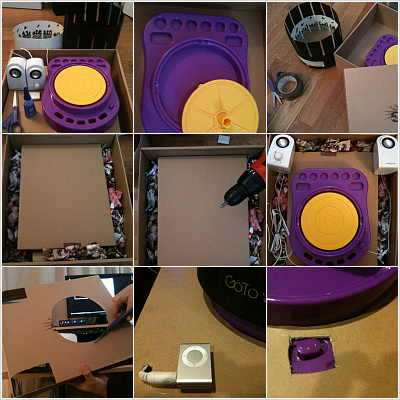 The voice, sound effects was created and they all mixed with music by programs called protool and cubase, and put into i-shuffle for the background music.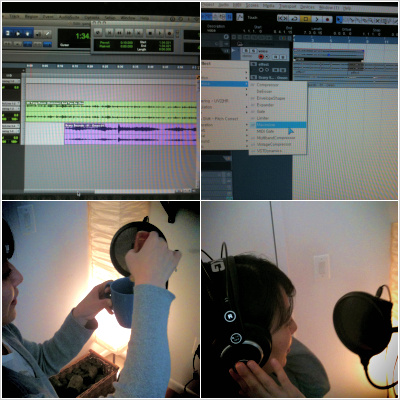 And finally my zoetrope trailer player for thesis was ready to watch!!