Cats and I have been "cooking" cookies this afternoon trying to decide what ingredients work, which don't, the size of our cookies (they need to fit well inside their personalized boxes), and what name we'd like to give our little "business."
The cookies we decided work and look best are the "Trail-Mix Cookies"
ingredients: 1/4 cup amonds,
Tsp cinnamon,
pinch sea salt,
1/4 cup walnuts,
1 cup majool dates,
2 Tbl Sp raisins,
and 2 Tbl sp sunflower seeds.
We combined almonds, cinnamon and salt in a blender, and until it was pulsed into chunks. We added the walnuts, and pulsed to make larger chunks. Then came the dates, raisins and sunflower seeds. We pulsed everything together until it was all mixed well. Then, we scoop dough in 1 1/2 Tbl Sp onto baking sheet, and flatten into cookies.
(We experimented with different ingredients but some were too moist and didn't allow the cookie to keep it's shape. At one point we used apples but that made the cookie too soggy… a picture of the apples is below.)
We also made the Truffle Cookies but we decided that because they're more round, they won't fit as comfortably into the mini boxes.
The Apple Cookies were good too but they were crumbly and required their own paper cup so again, not ideal for the boxes.

For the apples, "Pink Lady" apples cut into slices and marinated in lime juice, rosemary and Agave. These were delicious in the Apple Cookies and by themselves!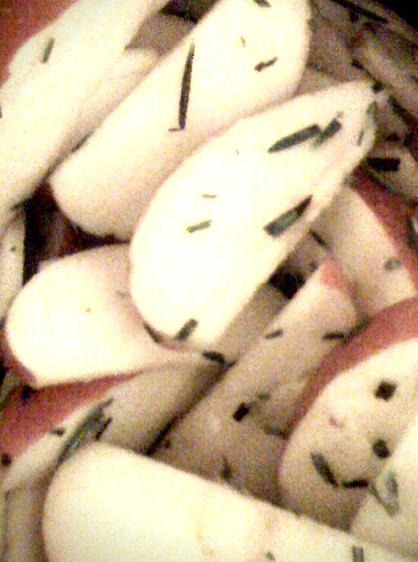 As for a name, our current idea is "Mini Raw Goodies"