Hello friends,
I put up a pegboard in my kitchen and made an iPad holder for it. You guys, this is a big deal. I can now watch my NetFlixx-ed Julie & Julia movie while I make aspic and chop onions (I should probably stop watching this movie). I posted the instructions to both the pegboard an the iPad holder to Instructables. You're all welcome over later for cookies and margaritas.
Bon Appetit!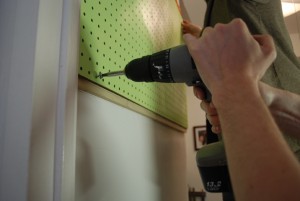 Materials:
Pegboard
Slats
iPad
Spray Paint
Drill
Screws
Dry Wall Anchors
Smiles
Pegs of various shapes and sizes
-for the iPad I used two J-hooks and two D-hooks available in a  multi-hook kit.
Edit: Here is my instructable!

iPad Optimized Kitchen Pegboard – More DIY How To Projects